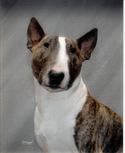 AKC UKC CH Beton Bullhill Revitup Winsor, CGC,RN,RA,TT,TDIA,DeltaSociety. BTCA  Versatility Award
          DOZER

Our Dozer is 14  1/2
 yrs old,  What a life Dozer has had. Dozer has accomplished many titiles, including Conformation,Obedience,TherapyDog, and the Bull Terrier of America Versatilty Award, Dozer is a very happy, healthy boy  and is enjoying retirement.  
      PEDIGREE
 Sire Ch.Winsor's Beton Tigger Too  RM279658 Brd/Wh- DamWinsor's Angelina Budweena RM176439 Wh
Ch Jambeau's Starmaster Windfall RM189785 RD & WH      Ch Kaleco's Going Incognito RM089114 Wh
ChWinsor's Betohn  Miss Pogo RM192543  Brdl & Wh           Ch Miss Piggy's Peggie RB376129 Wh        
Sadly  we lost our boy Dozer Dec 26,2014. Dozer lived a wonderful  life with us,  We will always  remember our boy,Dozer,  Always in our hearts forever, Sweet Boy, Until we meet again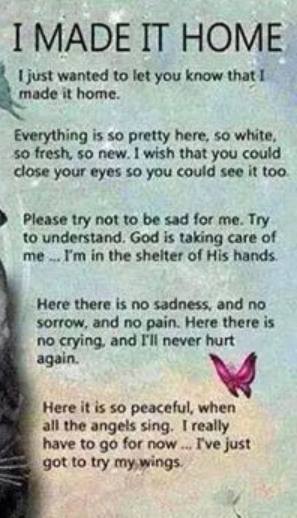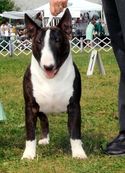 AKC GRCH Bullyhill Midnight Special
    DANTE

Dante  6yrs old, Powerful Handsome, Brindle &White. Great Bone,  Excellent Temperment.  A big lap boy!!   2010 Dante, was the  #5Colored Bull Terrier,He has earned his Grand Championship being the 2nd Colored BT 

          Pedigree ------------- GRCH BULLYHILLS MIDNIGHT SPECIAL


 Philgin Wendigo First Alert  RN00264102 -Kaleco Bulhils Queen Of DanialRN RN RN08031501

 CH Action Primary Colors RM18194702 Brdl & Wh  -  CH Philgin Wendigo The Pharaoh RN-Wh
  Wendigo Philgin Firefox RM28728108 Wh &Brdl    -    Lovit Girl For All Seasons RM36605912 Wh
              
          
          
    
BULLYHILL   BLACK TIE AFFAIR   "GIBBS"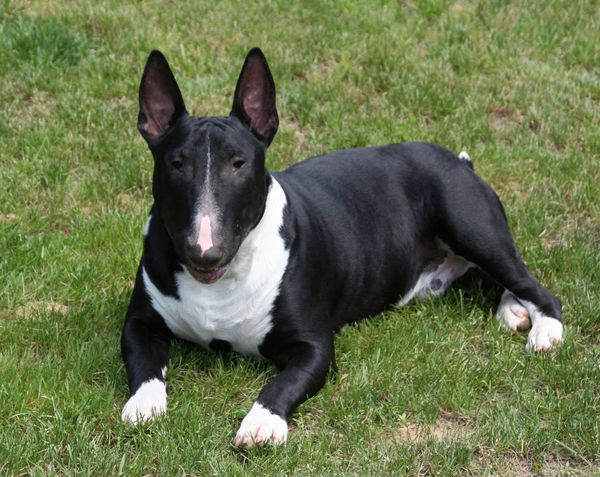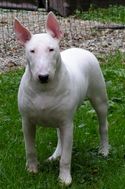 Kaleco Bulhils Queen of Danial CGC,RN
        DANI
Dani is the proud mom of our Dante, Abby and Ziva, Gramma to Gibbs, and Kate
Dani has had 2 beautiful, healthy litters  with AKC Champions, The littermates are all in loving homes throughout the USA and Canada. Dani  is  our Obedience Girl, acheiving her CGC and her Rally Title. She is now 8 and enjoying being just a great companion dog and a great gramma to Gibbs and Kate  Gramma Dani  will be a great grandma  this Jan 2016  as her grandaughter, Kate will be  having a litter
Our Great Gramma Dani  has crossed the bridge Sept 2018  RIP  my sweet girl


          
              

                   




          AKC/UKC  BIS,BISS  CH Philgin Darci at Bullyhill  ROM
          DARCI
  Darci was our classy show girl, who earned the number # 1 ranking in 2007  Colored Bull Terrier, She was a UKC BIS, BISS Speciality BTCA  and earned her ROM.  Darci had a awesome show career,  She is now retired and living in a wonderful home. being spoiled 
      Darci was  handled  by Teena Troy and  Sara Gregware during her show career    
We  just lost our Darci in March 2016, RIP  beautiful girl                   

CH Bullyhill Kaleco Limited Edition
 ABBY  is a retired AKC CH. .  Her mom is Dani (above.)   Abby  achieved her AKC Championship at Speciality BT shows, and have had mulitple  Group Placements.  
    Miss Abby  will be enjoying her retirement with a loving family in May, , enjoying the life of a couch and long walks and walks on the beach!!!!!
Our Dante and  Abby  are both enjoying retirement  with  Joe and Rosie    ruling  the nest!!!  Sadly, We lost our Abby this  year,  Thankyou for  giving us some beautiful babies.

 CH Bulllyhill Nobodys Baby But Mine
  Ziva
Ziva earned her AKC CH. at 9 months of age,  and continued to win Group Placements, she is now living in Byron Georgia with our special friend, Glenda. enjoying being a  Georgia Peach  and being spoiled.
          PEDIGREE- ABBY AND ZIVA
CHAction Captain America ROM - Kaleco Bulhils Queen of Danial RN 
RM21544902  Brdl/Wh           RN08031501 Wh    
Ch Action Captain Caos RM118224810 Brdl&Wh       ChPhilgin Wendigo The Pharaoh RN1499402 Wh
CH Action Claim To Fame RM00793102 Wh                Lovit Girl For All Seasons RM36605912  Wh
Bullyhill Kaleco Flirtn With Trouble, Kate  is a beautiiful  White Female. She was born 10/18/12 . Her mother is CH Bullhill Kaleco Limited Edition "Abby"  , sire is AM/Can MBISS. Ch. Rootin Flirtn with Texas ROM,   
KATE achieved her CGC  at the age of 9 months  and is now in Competition Obed Training/Rally Obed   Kate   has given us some beautiful  babies  and now is retired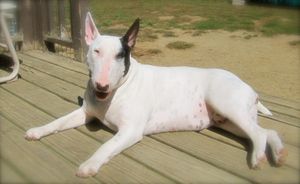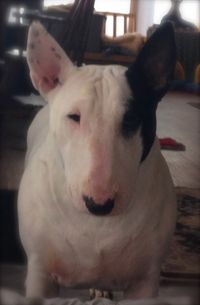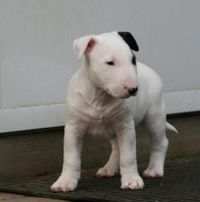 Below  is our newest girl,  Kensi.      She is from our  Kate and Oliver(Magor Born to Fly) She is starting her  show career now, These  pictures are when  she was  10 months   old,